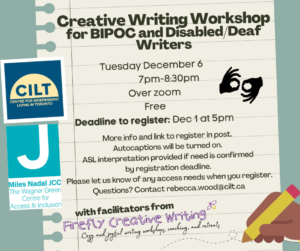 The Centre for Independent Living in Toronto and the Wagner Green Centre for Access & Inclusion at the Miles Nadal JCC present,
A Creative Writing Workshop for BIPOC and Disabled/Deaf Writers
This 90 minute interactive workshop led by facilitators from Firefly Creative Writing will be an opportunity for BIPOC and Disabled/Deaf writers to connect and write in community. Emerging and experienced writer's welcome.
This event will not be recorded. It will only be open to those who identify as part of the BIPOC and Deaf/Disabled community.
When: Tuesday December 6, 7pm-8:30pm
Where: Over zoom
Cost: Free
Deadline to register: December 1 at 5pm.
To register click here: https://us02web.zoom.us/meeting/register/tZUqce2rqD8oEtQMxXZDFeIsKoLtpKzKbBMD
Please let us know about any accommodation needs when you register. Automatic captions will be turned on. ASL to English interpretation will be available if need is confirmed by registration deadline.
We are using a broad definition of "Disability." We recognize people have different language that they prefer and that ableism, audism and sanism can be experienced no matter how you self-describe. In this workshop, we will welcome and honour the language participants use to self-identify.
If you need support with registration or need more information, please contact Rebecca by email rebecca.wood@cilt.ca
or call 416-599-2458 extension 291 TTY: Dial 711 for Bell Relay Service
Facilitators from Firefly Creative Writing:
Kitty Rode (they/them)
Kitty is a queer, South Asian artist who is passionate about storytelling, community building and all things design. At Firefly Creative Writing they find ways to make programs useful, accessible and of service to the community. They also facilitate disability justice education and training with the CRIP Collective. Outside of work, they love baking, watching horror films and playing Dungeons & Dragons.
Asifa Sheikh (she/her)
Asifa is happy to have found a community at Firefly where she can fully relish lifting up the voices of others and celebrating the courage and beauty in the act of writing. As a coach, Asifa wants to support writers in discovering the joys and the gems in their own words. She is also a cat mom to cheeky felines Rocky, Consuela and Cicero.
ASL-English Interpreters:
Jo-Ann Martin and Taigen Smart-Blake
This workshop is presented by: The Centre for Independent Living in Toronto and Wagner Green Centre for Access & Inclusion at the Miles Nadal JCC, with the support of the P. & L. Odette Foundation and generous funding from the United Way Greater Toronto, the City of Toronto, and Independent Living Canada.