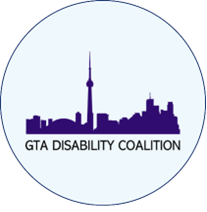 Welcome to the GTA Disability Coalition
Who we are: The GTA Disability Coalition is a network of disability-focused organizations that advances the accessibility, voices and inclusion of disabled and Deaf people across the GTA. Funded by United Way Greater Toronto, we primarily engage with Toronto City Council, City divisions and the nonprofit sector to deliver systems change solutions to disability poverty, housing inaccessibility and other access barriers.
Our key priority areas are: Disability income insecurity and poverty, inaccessible and unaffordable housing, TTC inaccessibility and unaffordability.
How we came to be: Founded in 2018, the GTA Disability Coalition was developed by the Centre for Independent Living in Toronto and disability community partners as a vehicle to mobilize a cross-disability response to issues of major concern to Deaf and disabled people in Toronto. Primarily focusing on influencing municipal level issues and policy change, the Coalition brings together a diverse membership of Deaf and disabled organizational partners.
Our Membership: As of August 2023, our steering committee partners are: Accessible Housing Network (AHN), Alliance for the Equality of Blind Canadians (AEBC – Toronto Chapter), Autistics for Autistics (A4A), Balance for Blind Adults, Canadian National Institute for the Blind (CNIB), Centre for Independent Living in Toronto (C.I.L.T.), Ecohesian, Empowerment Council (CAMH), Ethno-Racial People with Disabilities Coalition of Ontario (ERDCO), ODSP Action Coalition, Ontario Disability Coalition, Silent Voice, and Working for Change.
Guiding Principles
We uphold the "Nothing about us without us" philosophy.
Collectively advance the access rights, equity, voices and issues of concern to our communities using a cross-disability approach.
Centres the human rights of disabled people in our work, including those rights protected by domestic and international human rights laws, such as Accessibility for Ontarians with Disabilities Act (AODA), Convention on the Rights of Persons with Disabilities (CRPD), and the Accessible Canada Act (ACA).
Utilizes intersectionality to centre disabled and Deaf people who experience multiple sites of oppression and marginalization.
Guided by Disability Justice principles and anti-oppression practice.
Promotes accessibility as a site for justice and community building.
Operates with democratic principles and prioritizes consensus decision making.
We use a non-partisan and civic approach to our work.
Our Socials – Please join us here!
Facebook: https://www.facebook.com/GTADC1
X (Twitter): https://twitter.com/GTADC1
Contact Us: To find out more about our work, or how to get involved, please contact
Kim Adlard – Coordinator, The GTA Disability Coalition at: kim.adlard@cilt.ca or
David Meyers – CILT's Senior Manager of Independent Living Programs at: david.meyers@cilt.ca.