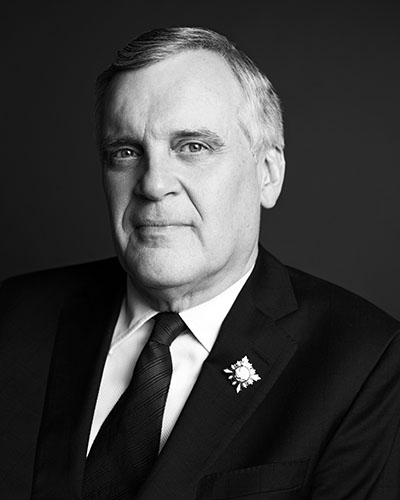 Photo Credit- Maayan Ziv
In Memory of David Onley
By Wendy Porch, Executive Director CILT
The CILT Staff and Board were deeply saddened to hear of the recent passing of David Onley, former Lieutenant-Governor of Ontario and life-long disability rights advocate.
David Onley's role for many years as a reporter on City TV changed the way many of us with disabilities felt about representation in the media. He was one of the only disabled reporters many of us ever saw. He did not hide his disability and in doing so he provided many of us with the sense that we counted too. We were also a part of the world, even if we didn't see disability very often represented elsewhere in the media. To see an interview with David from his days as co-host of Breakfast Television at CityTV about his ground-breaking role in the media as a disabled reporter, please check out the following link from CILT's archives of the Disability Network on Youtube. The interview begins at 16:35: https://www.youtube.com/watch?v=YO9IM8PkXpM
When David became the Lieutenant-Governor in 2007, again disabled people everywhere saw another barrier come down. We also felt hopeful that changes were on the way that would improve things for our community. With David there, representing us, we felt certain that he would put our community on the map, with his characteristic understated grace and eloquence.
In 2019, David was invited to review Ontario's progress towards compliance with the Accessibility for Ontarians with Disabilities Act (AODA). The AODA itself calls for periodic reviews, with others having been conducted by Charles Beer's Report of the Independent Review of the Accessibility for Ontarians with Disabilities Act and by Mayo Moran. David did not hold back. He said in his final report 2019 Legislative Review of the Accessibility for Ontarians with Disabilities Act, 2005 that:
"The vision in the AODA has, by and large, turned out to be a mirage. Every day, in every community in Ontario, people with disabilities encounter formidable barriers to participation in the vast opportunities this province affords its residents – its able-bodied residents – as will be fulsomely described later in this report. For most disabled persons, Ontario is not a place of opportunity but one of countless, dispiriting, soul-crushing barriers. "
Despite the strong words and the very specific remedies suggested by David in his report (notably the first of being "Renew Government Leadership" and the second "Enforce the AODA"), almost nothing has changed for disabled people since 2019.
In fact, things have gotten worse. Disabled people still account for the vast majority of people living in poverty. Employments rates, which David referred to as "not only a national crisis but a national shame" have not improved. Inaccessibility of the built environment remains a constant, and disabled people are being hit the hardest by inflationary increases. The most recent increase to ODSP resulted in a disabled person being required to still live on only around
$1228 per month, well below any markers for poverty, and the promised Canada Disability Benefit still remains that – only a promise.
CILT joins with disabled people everywhere who are mourning the loss of David Onley. We are grateful for David's ceaseless work for our community and send our deepest condolences to David's family and loved ones. We have also been reading the many tributes written by members of government, remembering David and his important work on behalf of our community. We only wish that David could have seen government implement the changes he advised in his AODA Review Report in 2019.
To those still in a position to affect change, there is still time to change the course of our dismal progress towards an accessible Ontario by 2025. You can still act even now. There would be no better way to honour David's memory.