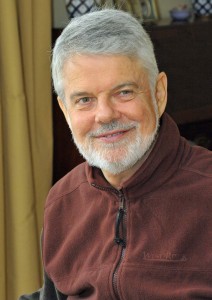 Posted on behalf of Leisa DeBono, Manager of Direct Funding Program
Ian Parker was a mainstay and staff member at CILT for over 25 years, so we are still coming to terms with the tremendous loss after he passed away on April 15, 2021.
But amid that sadness, we were so gratified to learn that Ian recently received the David C. Onley Award for Leadership in Accessibility.  (More on that below.)
As one of the longest serving members of staff, Ian was a staple at CILT.  You get to know a few people when you spend more than a quarter of a century working at one place!  Aside from being a well-spoken, kind and intelligent person known in a wide variety of circles, Ian was truly a pleasure to work with.  He was gentle and generous – you could always count on Ian to help out any staff member who needed an ear or some assistance in problem-solving.  He was incredibly smart and analytical, yet down-to-earth, an academic but very practical, and his actions were always grounded in compassion and regard for those around him.  At his core, Ian believed in and embodied the Independent Living philosophy.  It is that foundation that led him to be one of the key creators of the Self-Managed Attendant Services; Direct Funding Program that has been run through CILT since 1994.
The Direct Funding Pilot Project was a revolutionary change from the way traditional attendant services  were received.  It switched responsibility from an agency to the individual with the disability who would receive funding, become an employer, then recruit, train and pay their own attendant staff. Talk about turning the system on its head!
Getting a project like Direct Funding off the ground was not fast or easy.  Starting in 1989, Ian worked with other individuals with disabilities who used attendant services, along with government representatives, to develop policy and legislation that would pave the way for the program, including an important exemption under the Regulated Health Professions Act.  A staunch advocate of the concept of self-management and author of the original policy guidelines, once funding was secured in 1994, Ian took on managing the pilot project while also being one of the first participants on the program.  He led Direct Funding through the all-important formative years including the original program evaluation in 1997 which was so overwhelmingly positive that the "Pilot Project" received ongoing "Program" status, and the ability to take on hundreds more "Self-Managers," as program participants are called.
Ian saw the DF Program through many changes, and some challenges, but you could not find a better person to oversee the legal, social, economic or ethical issues that arose over the years.  He laid the framework for a program that has now served more than 1,800 Ontarians with disabilities and that continues to expand.  The last program expansion happened in 2020, so Ian's legacy continues to grow and take on new participants from the sizeable list of people waiting for this opportunity.
Ian Parker and Direct Funding will forever be integrally linked, but Direct Funding is far from Ian's only accomplishment.
Following his spinal cord injury Ian enrolled as a part-time student at the University of Toronto in a music program and quickly learned how difficult it was to get around campus as a disabled student.  Not one to accept the status quo, Ian co-founded Access U of T and had a ramp built outside the music building.  The group continued to push for accessibility changes that benefit U of T students today.  In fact, Ian recently used the same ramp he advocated for in the 1970s to see his daughter perform at the same school.  To remember his efforts at U of T, an article was recently published about Ian and can be read here: Article on Empathy and Strength by Ian Parker
Ian was also among the first people to come out of Lyndhurst, a Toronto rehabilitation centre for people with spinal cord injuries, and live in supportive housing around 1975 – but it wasn't really supportive housing back then, it was a pilot that would later become supportive housing.  In 1983, his experiences led him to develop an evaluation instrument and protocol for Ministry review of supportive housing units. Always active in some way with government, while still earning his BA in music, Ian also worked with the Ontario government as the assistant provincial coordinator on the International Year of Disabled Persons in 1981 and conceived the "Label us Able" awareness theme.
Within the disability community it is hard to meet a person who either does not know Ian, or has not heard of him because he worked towards inclusion and accessibility for almost five decades.  It therefore feels fitting that Ian's family recently learned that he was awarded the David C. Onley Award for Leadership in Accessibility for his work in the community:
"The award recipients include leaders who champion accessibility, raise awareness about the benefits of inclusion, and foster positive change in their communities with their work helping to improve the lives and experiences of people with disabilities in Ontario…
Role Model – Ian Parker from Toronto posthumously received the award for his visionary work in establishing the Direct Funding program as an option for the delivery of personal care for Ontarians with disabilities."
You can read more about the David C. Onley Award and Ian here:  Ontario Recognizes Champions of Accessibility
It would be difficult to find another person who so perfectly emulates leadership, inclusion and positive change in their community.  And to further honour Ian's memory, his family have decided to donate the financial award to CILT, which will use the money to provide much-needed and costly equipment to individuals with disabilities who could not otherwise acquire it.
That Ian is no longer with us is incredibly sad for those who knew and loved him.  He has left an enormous hole that is impossible to fill, as just his presence and the knowledge we could seek out his opinion or memory on day-to-day issues seemed to make things better and easier. It is comforting to know that Ian's contribution to so much, but especially to the Direct Funding Program, have earned him a place in the history books, as well as all our hearts.